Frequently Asked Questions
I'm not a waterskier, can I still live here?
---
Yes. PLEASE! These lakes are for the enjoyment of anyone who loves idyllic settings, convenience, community with incredible views and amazing build lots.
Other activities include: swimming, paddleboarding, canoeing, kayak, wakeboarding (boats have to be USA waterski approved boats, with no enhancing of the wakes), tubing.
---
Is the boat traffic loud?
---
No, the approved boats are designed to run quiet. Noise dampening.
---
Where can we hang without any boats?
---
The west end and the island are completely removed from boat traffic and features the same lovely beach front as the rest of the two lakes, public spaces, clean water and space to play, relax, swim and enjoy.
---
What is the deal with the island?
---
We think it's very cool and you can share the space with others, there are docks, access to non-motorized areas, shady areas and adequate space to relax, picnic, play and enjoy.
---
Where is Rosewater?
---
Rosewater is just north of Kalispell and just south of Whitefish – the sweet spot of convenience. Jumpstart any Flathead Valley adventure with Glacier National Park's west entrance 30 minutes away, the famed Flathead Lake 20 minutes away and world-class skiing at Whitefish Mountain Resort. Schools, shopping, hospitals, Glacier Park International Airport, food and fun are all a stone throw's away.
---
How big is Rosewater?
---
The lakes: 2300' x 240' X2 The dirt: 155 acres
---
Is the lake private?
---
Yes, private gated community for residents and guests only.
---
Are there waterski tournament events?
---
Yes. We can have up to three events per year that are open to the public. In 2019 we have two events: Open House June 22-23 with Pro waterskier Corey Vaughn, giving free clinics Montana Waterski Tournament August 17-18

---
Is there a difference between the lots on the lake and off-water lots?
---
The lots off the lake tend to be larger than on-water lots, yet still have to the lakes and its activities.
---
Are there HOA fees?
---
Current fees are $100/month.
---
Is there a waterski club?
---
Yes. All lots on the lake are automatic members with a monthly fee of $10. All off-water lot owners can join the club, if desired. No obligation to join though.
---
Where does the water come from?
---
The subdivision has water rights to the Whitefish River for both irrigation and recreation.
---
Are the lots serviced?
---
Yes. Rosewater is serviced with Evergreen water, Rosewater sewer facilities, natural gas, cable with high-speed Internet, fiber optics, snow removal and garbage pickup.
---
Are there storage units available?
---
Yes. Available for rent for lot owners. Size is 15' * 40' to accommodate most RVs, boats and trailers. The units are on Rosewater property giving convenient access to your favorite toys.
---
Do the lakes freeze over in the winter, and is there access to the lakes for winter sports?
---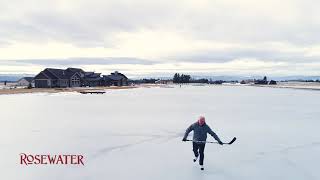 Yes! Our homeowners are welcome to use the lakes in the winter months for iceskating and other ice-related fun!
---
---